Progress in the Russian River
NOAA and partners are testing a new system to help wine growers in California's Russian River fight crop-killing frost without danger to threatened and endangered salmon. Together, we installed eight frost inversion towers in the grape growing regions of Mendocino and Sonoma Counties.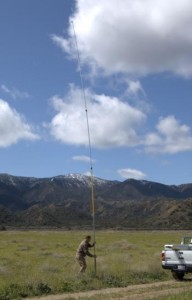 When cold air settles in low elevation areas, the resulting frost can damage sensitive grapes. Sometimes local farmers use water from Russian River tributaries to spray down the grapes before a frost. As this water freezes, it actually creates energy that warms the grapes and adds a protective warm barrier from the frost. Spraying by multiple vineyards at the same time can lower water flows. This can lead to endangered coho salmon and threatened Chinook and steelhead being stranded—unable to swim upstream to reach their habitat.
These 35-foot towers provide measurements of the height of the warm air during frost conditions, called inversion. They will help us determine if an inversion is shallow. If so, growers can use fans to mix higher, warmer air with cold air near the surface—potentially eliminating the need for water altogether.
As a Habitat Blueprint Focus Area, NOAA is committed to helping communities in the Russian River better forecast frost events, identify the most frost prone sites, and find alternative frost protection methods. We worked with the University of California Cooperative Extension and Mendocino and Sonoma County Farm Bureaus to install the towers.