California Camp Teaches by Example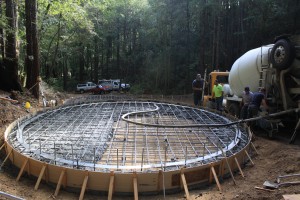 Balancing water needs to recover salmon
El Niño rains have brought record rainfall to northern California this year—just in time for a new water conservation project on the Russian River watershed. Two water diversion storage tanks holding approximately 180,000 gallons each were installed by Gold Ridge Resource Conservation District at Westminster Woods Camp and Conference Center.
Before these tanks were installed, up to 1 million gallons of water was being pumped from adjacent Dutch Bill Creek during summer. The water was being used to irrigate playing fields at the camp.  But summer is also a critical time for young salmon and steelhead that rely on cool creek water for their survival. Using the water for irrigation meant there was less water for the fish.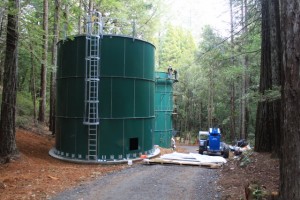 Water Diversion
Now when rainfalls are higher in winter, water is diverted from the nearby spring directly into these storage tanks. The stored water is then available for use by the camp in summer when it is drier— reducing the need to draw water from the creek. Project partners at the camp installed other water conservation measures as well, including planting drought-tolerant grass species and installing a new irrigation system.
Dutch Bill Creek is prime habitat in the Russian River for the highly endangered Central California Coast coho salmon population. Previously plentiful, this coho salmon population has nearly disappeared from the Russian River watershed. One of the hurdles for their recovery is reduced stream flows in summertime, which can leave some pools dry and degrade water quality.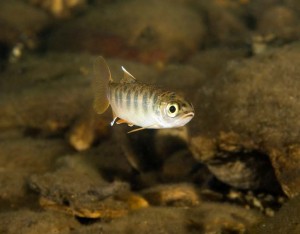 "This project is more than timely since the last four years of drought have been a very challenging time for salmon and their recovery in this area," says Joe Pecharich, NOAA Restoration Center biologist. Pecharich provided technical assistance for this project and has supported other similar water conservation projects in this watershed and nearby Salmon Creek watershed.
This pioneering water conservation project is inspiring other nearby landowners to install similar systems along tributaries of the Russian River. NOAA provided funding for the project through its Habitat Focus Area effort in the Russian River Watershed. The tanks were installed in partnership with the NOAA Restoration Center and California department of Fish and Wildlife.
---
"Restoring Salmon Creek" video shows how NOAA has worked with a community near the Russian River watershed.